About Colon Hydrotherapy(Colon cleansing)
Colon Hydrotherapy is a therapy in which a large amount of precisely controlled sterile warm water is directed to the back of the intestine, where it massages the depths of the intestine and removes feces and other impurities.
Colon Hydrotherapy practiced at, Tsushima Ruriko Women's Life Clinic, has superior benefits to enemas and other home use treatments.
There is also a training effect that restores the "body's own work" which cannot be done with enemas at home,
eliminating the feeling of stagnation of the abdomen and gas accumulation and discomfort. In addition, since vital functions are restored, health, beauty and stress relief can be greatly improved.
Colon Hydrotherapy was used by the late princess Diana and today is used by many supermodels.
It has recently attracted attention as a pretreatment for colonoscopies. Maintain a beautiful intestinal environment and restore your health and beautiful healthy skin.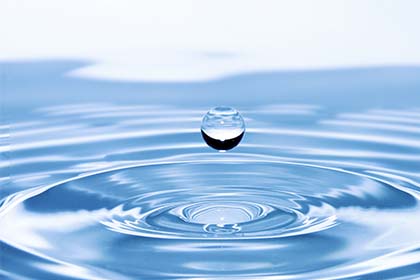 Comparison between Colon Hydrotherapy and Home Use or Hospital Enemas
Commercial enema, glycerin enema at hospitals
Glycerin reaches the rectum. Drug stimulates the rectum.
Effect ★
High pressure enema at hospitals (500ml)
Water reaches the middle of the descending colon. Water stimulate around the descending colon.
Effect ★★
Intestinal lavage performed at home(500-1500ml)
Water reaches the descending colon and washes it.
Effect ★★★
Colon Hydrotherapy(Colon cleansing) at the hospital / Clinic
The entire colon can be cleaned.
Effect ★★★★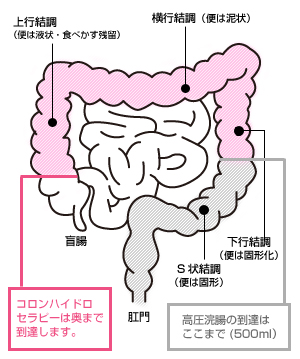 Main Effects of Colon Hydrotherapy
Decreased in Constipation and Diarrhea
Large amount of hot water directly stimulates the large intestine, thereby activating the slow-moving intestine.
The burden on internal organs is decreased because waste products and built up feces which has been stuck in the intestine for a long time are removed.
The accumulated gas is also excreted by the massage during Colon Hydrotherapy (Colon cleansing).
The inside of the intestine, which may have been hardened by regular use of laxatives, is softened again.
So called, "bad bacteria," which proliferated, in the colon are washed away, allowing for an improved colon environment where good bacteria can grow easily.
Improvement of Rough Skin and Dullness
As the metabolism improves, it reduces troubles such as skin spots, acne, rough skin and other skin irritations. It also helps to decrease the effects of aging.
Recovery from Fatigue/ Improvement of Physical Condition
Colon Hydrotherapy (Colon cleansing) may help to reduce the incidences of colon cancer and breast cancer, which are believed to be closely linked to excessive constipation.
Weight Control and Diet
Improves constipation that occurs from diets with restrictive food requirements. Colon Hydrotherapy (Colon cleansing) can help in an effective diet.
Before being treated at our hospital
Before you begin Colon Hydrotherapy(Colon cleansing) in our clinic, please read the notes below. In order to receive Colon Hydrotherapy(Colon cleansing) safely, please confirm the following items.
Before Treatment
It is recommended to defecate by the day before the therapy, in order to receive Colon Hydrotherapy (Colon cleansing) more effectively.
If you have not had a bowel movement for 3 to 4 days, please inform your therapist.
Even if you don't have a bowel movement, it is possible to perform the therapy while adjusting.
Please use laxative and intestinal remedy as you usually take.
Please finish your meal lightly by one hour before the therapy.
If you skip a meal, the intestinal movement during the therapy may become weaker.
During the menstruation
When you do not have a menstrual pain, you can receive the therapy.
Because the therapy improves the blood circulation, the amount of the menstrual bleeding may increase. However, you do not have to worry.
We recommend wearing tampons during the therapy.
Besides
If you are currently receiving treatment, your doctor's consent may be required or you may not be able to receive the therapy depending on your disease and treatment.
Please refrain from the therapy if you have a serious chronic disease related to heart, kidney, liver, stomach, intestine, and anemia, have just had an abdominal operation, or are pregnant.
Map
Tokyo Metro Marunouchi Line / Hibiya Line / Ginza Line Ginza Station A13 3 minutes on foot
Yurakucho Line Ginza 1-chome Station Exit 8 0 minutes on foot
Tokyo Ginza 2-6-5 GINZA TRECIOUS Building 7F
Address Japanese:東京都中央区銀座2-6-5銀座トレシャスビル7F
Women's Life Clinic Ginza, Maternity, Health Clinic
3 Features of Our Colon Hydrotherapy
Relief・Safe・Fearless
Providing a Safe, Discreet, and Relaxing Environment Our clinic makes it our first priority to provide safety and reliability to our customers.
1
Administered by Registered Nurses
Colon Hydrotherapy will be performed while undergoing massage by a registered nurse.
In order to be able to spend comfortably during the therapy, while checking the tension of the stomach and the like, the nurse will massage the intestine according to the movement of the client's intestine. It is a high-impact medical massage that can be performed only by experienced nurses who are familiar with anatomical physiology.
2
Consultation and Advices throughout Your Visit
Before, during, and after your Colon Hydrotherapy , our clinically experienced nurses provide comprehensive support on ways to decreases constipation and intestinal problems.
3
Discreet Private Therapy Spaces with Attentive Therapists
Our therapists take great effort to understand each of our clients and provide therapy that fits with their current condition. We always aim to minimize pain and make the experience comfortable throughout. If clients feel an urge, they can go to the bathroom during the therapy and resume afterwards.
NOTE: Total therapy time is 40 minutes including any breaks in therapy (for bathroom or other).
※ As a women's clinic, run by women, for women, we provide a safe comfortable atmosphere free of fear.
※ All staffs are female nurses who are experienced clinically. Our team includes a professional therapist who has received instruction from an international licensee of Colon Hydro-therapy in the United States.
※ The large intestine warm water cleaning device uses "Hydro Sun Plus" (approved by the US Food and Drug Administration), which has been evaluated for safety and reliability worldwide. Hydro Sun Plus has been evaluated for its high safety and reliability by its accurate water flow and temperature control, water flow prevention function, infection prevention by disposable type of tube, accident and electric shock prevention function, etc.
Therapy Rooms